Frequently Asked Questions
How do I know if a performance is going to be cancelled due to poor weather?
The summer performances are under the stars (dress accordingly). Under adverse weather conditions the decision to cancel a performance is not made until 7:30pm. Performances may be cancelled at any time during the show due to heavy rain, lightning, or other reasons beyond our control. A "hold" may be put in place to see if conditions improve. A hold usually indicates that we believe conditions will improve within a short period of time. If a performance is cancelled between 7:30pm and 8:00pm, a message will appear on our homepage, Facebook feed, and Twitter feed.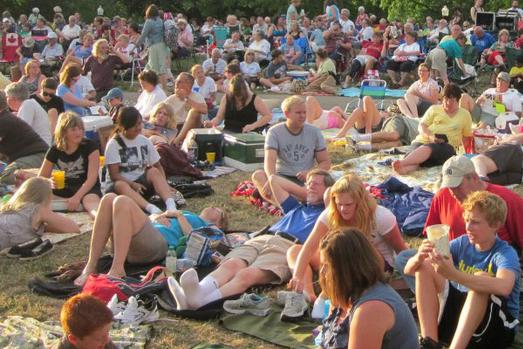 How much does it cost to attend performances?
All of our productions are "Pay What You Will," meaning, it's really your choice. Our priority is to keep quality outdoor theatre alive and well for ALL of our vibrant community. We will tell you it costs the company $14.59 per audience member at each performance, so we do rely on the generosity of the community to keep up the good work. Think of it this way: What would you pay for a movie ticket? How about a concert? How about a Broadway show? We also offer a limited number of reserved seats, or the option to reserve an ATC logo blanket (that you can keep after the show!) for $25 in advance. Reserve seats here.
Where are you located, and where can I park?
We are located in Schiller Park, in the heart of historic German Village. Parking is available in the paved lot at the Schiller Recreation Center, or on city streets surrounding the park. Parking on the grass is not permitted and may cause Columbus Parks and Recreation to have your vehicle ticketed and/or towed without warning.
Do I need to bring anything special with me?
This is totally your call. While plenty of people just show up and have a seat in the grass, lots of others prefer a blanket or even a chair. We have sections for each. You might consider packing bug spray and sunscreen. Also, you could pack your preferred beverage and a picnic, or just pick something up from one of our many amazing German Village restaurants.
Can I take pictures and videos?
Video of a performance is not permitted under any circumstance unless prior written authorization is granted by our office and must be presented to the House Manager at that performance. Photography is also not permitted during the performances. The flash will not be effective with the distance to the stage, and is disruptive to actors, while the camera/phone screen is a distraction for fellow patrons.
What is the proper etiquette for outdoor theatre?
Although we encourage families to come and enjoy the show, we do ask that parents keep their children from running free and unsupervised. Remember, the actors can see you as easily as you see can them, and such distractions do a grave disservice both to them and other audience members. Along those lines, we also ask that you refrain from the taking of pictures and the use of recording equipment during the performance. Please make sure that cellular phones and beepers are off. Also if you do arrive late, or have to leave early, be considerate of your fellow audience members, and do so as quietly as possible.
How do I get involved?
We love bringing new people into what we do! If being a star is your heart's desire, we offer a number of classes and camps for children and adults of all ages, or you could just come out to our season auditions the first weekend of March (keep an eye on the website or 'Like' us on Facebook to get the latest info on that). If you'd rather work off-stage, or come volunteer with us, contact our Managing Director, Adam Simon. He'll point you in the right direction!  If you're interested in applying to be on our board, please check out our Board of Directors page for more info and the online application.